JSPAN Sponsoring Program on Education Vouchers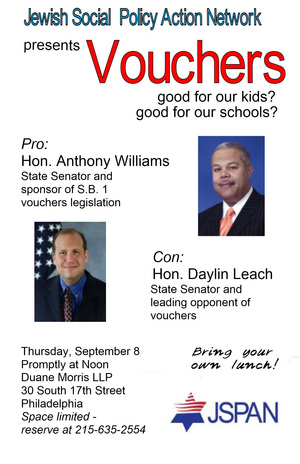 Join JSPAN for a great program on Education Vouchers on Thursday, September 8 at noon at
Duane Morris LLP, 30 South 17th Street, Philadelphia,
featuring St. Senators Daylin Leach and Anthony Williams
The event is free-of-charge, but space is limited, so please call 215-635-2554 to reserve a spot,
and for more information.
Look forward to seeing you there!
---
---
Jewish Social Policy Action Network
1735 Market Street, Suite #A417
Philadelphia, PA 19103
United States


Read the VerticalResponse marketing policy.
!doctype>